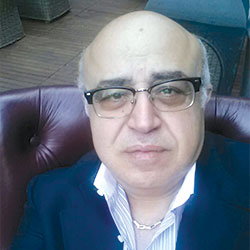 PROFESSIONAL EXPERIENCE
August 2016 – Present
Executive Director and CEO – Neighborhood Partners Inc.
President – NPIC EDC, INC.
Neighborhood Partners Inc., a not-for-profit California corporation, established in 1993, with 501(c)3 designation from the Internal Revenue Service. The company is the owner and/or the managing general partner of seven apartment complexes where rents are restricted at affordable level pursuant to the US Department of Housing and Urban Development. The properties are located in the northern region of the greater Los Angeles Area.
NPIC EDC, INC. is the wholly owned for-profit subsidiary of Neighborhood Partners Inc. The company has two operating segments: real estate services, and asset management.
The Real Estate Services segment consists of (a) property management, (b) design and construction services, and (c) contract-repair services.
The Asset Management segment consists of:
A plan to embark on a Tax Credit Investment Funds (in states of California and Utah) for equity investments in affordable and/or eligible projects – this will include both 9% and 4% Low Income Housing Tax Credits (LIHTC), Historic Restoration Tax Credits (HRTC) and New Market Tax Credits (NMTC); and
(b) A plan to launch a Community Reinvestment Act Fund (in states of California and Utah) – for advancing small business loans, on a secured basis (asset-based loans), to viable enterprises that do not have access to banks and conventional financial intermediaries.
January 2014 – Present
Principal – Mutual Capital Advisors TM
Mutual Capital Advisors is nationally registered trademark, and the California registered fictitious name, for business activities of Ninoos Benjamin and associates. 
Mutual Capital Advisors through its special-purpose (single-asset) affiliates provides real estate services in (i) investment advisory, (ii) asset management, (iii) fee-based development, (iv) incorporation of funding through LIHTC, HRTC and NMTC, and (v) economic and financial consulting (with specialty in public financing, tax credits, and tax-exempt bonds). The client base of Mutual Capital Advisors consist of high net worth individuals and families, institutional investors, the treasury department of sovereigns, local governments, special-purpose municipalities, and real estate developers.
The particular expertise of the company are (i) identifying off-market investment and development opportunities,  (ii) public and private partnerships to leverage the benefits of public funds, and (iii) streamlined development. In turn, the proficiency of the executions generated rates of return, for the investors, which have been above the market norms.
January 2008 – January 2014
Director – Economic Development
City of Los Angeles – Economic Development Department
As the Chief Grants Administrator, managed the underwriting and deployment of Community Development Block Grants (CDBG), the associated Section 108 Loan Guaranty program, Brownfield Economic Development Initiative (BEDI); the State of California Enterprise Zones within the City of Los Angeles (SEZs); and the City's Industrial Development Authority (IDA) programs for the issuance of tax-exempt revenue bonds funding non-housing economic development projects. During my tenure, my initiatives and measures:
Expanded the amount and scope of deploying Section 108 loans to its legislated limits, which served as a potent source of capital amidst the Great Recession of 2008;
Portfolio of loans and grants under my management exceeded $600 million;
Integrated the Section 108 loans with other semi-public sources of funds, such as funding through the New Market Tax Credit program, contributing to the economic viability of otherwise infeasible development projects;
Initiated a $15 million asset-backed small business loan program, which addressed the unavailability of bank lending vehicles, due to then prevailing credit crunch, for the small borrowers;
Managed network of City sponsored (and funded) Business Source Centers, operating as business incubators, assisting start-ups and channeling loans to small businesses; and
Managed staff of 30+, and navigated complex Code of Federal Regulations (CFR) in the deployment of the federal funds.
April 2003 – January 2008
Principal – Mutual Capital Advisors LLC
Founded and managed an Investment & Development Real Estate Opportunity Fund, by raising equity investments from limited partners, and serving as the general partner.
Acquired three vacant properties for new construction of mixed-use of institutional caliber multifamily housing and retail complexes.
The fund managed entitlement, design, construction, operation and disposition of the properties.
Upon the planned and voluntary disposition of the properties in early 2007, the fund generated internal rate of return exceeding 40 percent for the investors.
October 1999 – April 2003
Manager – Bond Finance Program
City of Los Angeles Housing Department
Administered the City of Los Angeles' issuance of more than $350 million Tax-Exempt Multifamily Housing Revenue Bonds; and private placement of two, total $175 million, Tax-Exempt Single Family Housing Revenue Bonds, for mortgages to first time home-buyers.
May 1986 – October 1999
Senior Vice president & Manager
The Sumitomo Trust & Banking Co., Ltd., Los Angeles Branch
(The predecessor to Sumitomo Mitsui Trust Bank, Japan)
Headed business development in the western states, by originating, underwriting and executing direct loans, issuance of direct-pay or stand-by letters of credit, and direct investments that funded fortune 1000-500 businesses, and public as well as private projects.
Below is a highlight of select transactions:
Pioneered investments in high-yield bonds, and the U.S. Dollar denominated bonds of public and private issuers in the emerging markets.
Issued $300 million Letter of Credit supporting subordinated Tax-Exempt Bonds of the City and County of Denver, funding the development of the New Denver Airport.
Issued $230 million Letter of Credit in support of Variable Rate Tax-Exempt Multifamily Housing Revenue Bonds, funding fifteen projects owned by affiliates to Lincoln Property Company N.C., Inc., the predecessor to Legacy Partners.
Issued $262 million Letter of Credit in support of local governments composite bond, issued by the Utah Municipal Finance Corporation, to fund public purpose projects throughout the State of Utah.
Direct construction and mini-perm loan of $60 million for development of Delta Center Arena, housing the NBA basketball team of Utah Jazz. The arena was later renamed to Energy Solution Arena.
Spearheaded and led the bank's technology finance and investment unit; with direct loans and investments in excess of $600 million, generated an exceptionally high risk-adjusted return.
In the real estate arena, financed and invested in 82 institutional caliber apartment projects, 12 hotels (including 2 Las Vegas based hotels & casinos), and 25+ million square feet of office, retail, and industrial properties.
In the credit workout and restructuring field, in the aftermath of borrowers' filing for bankruptcy, I managed the business and legal strategies that led to full recovery of assets, and also, the costs associated with the workouts.
May 1983 – May 1986
Vice President – Portfolio Management & Workouts
Credit Lyonnais, Los Angeles Branch
(Now, a part of Credit Agricole, France)
Administered a loan portfolio of $500 million, and managed the resolution of two problem loans to Tosco Refinery, and North American Car Corporation.
EDUCATION
1980 – 1983
University of Utah – Economics Department
I received Master of Science degree in Economics, with major fields in financial economics, macroeconomics, and quantitative economic analysis.
1979 – 1980
Westminster College, Salt Lake city, Utah
I received Bachelor of Science degree in Business Administration and Economics.